What if You Could Heal Your Mind and Gut?


My story begins in the postpartum period after my daughter was born in 2004. I had an extremely healthy pregnancy, gained only 25lbs and was in awesome shape!! I had a home birth and my labor was induced with acupuncture as she was a bit late and I was done being pregnant. With a short waist and an active baby in utero, I was ready for her to be on the outside of me. My labor was incredibly difficult. I was really looking forward to labor in many ways. I was having a home birth so obviously I wasn't scared of the pain. I have done many hard physical activities in my life and this was just another one. This was unlike any pain I had every known. I couldn't keep any food down. My legs shook constantly and my contractions were so close I couldn't get any rest for most of the 23 hours. I tell you all of this because I believe this set me up for what came next. I've only recently discovered that I was probably having a gallbladder attack during labor because of the excess pressure on my liver. I also had a very difficult time dilating which I've also just learned was due to the fact that I had cryotherapy for HPV and wasn't instructed to do cervical massage because of the scarring. I was encouraged to do it but not related to the scar tissue on my cervix. I should have been doing it regularly throughout my pregnancy. I think you're getting the picture that my labor was very difficult and stressful.

My daughter was born and was a very healthy 8lbs 16oz. Much larger than I expected! I was exhausted. When I looked at my legs a day or so after she was born they looked emaciated after being as muscular as they had ever been. I burned through muscle for energy during labor. It was akin to what Ironman triathletes experience. My body was in shock I later realized and my adrenal glands were toast. If that wasn't bad enough, Racey had colic and cried for much of her first 3 months.


A little bit of history about me before I had my daughter. I had struggled with anxiety over the years for sure. I've tended to be a worrier but never considered needing medication for the level of anxiety I had. I also had dealt with adrenal health issues because of stress and GI issues from the same. However, before I had my daughter I was in the best health of my life! There had been some weird thyroid aberrations a few years prior but they had normalized. Back to my story.....
In those first few months you can see that I was incredibly stressed out. I never knew if she would nap for 20 minutes or 2 hours and I felt paralyzed as to what to try and do with my time alone. I also became afraid of going out and I am one of the most outgoing people you'll meet. I get energy from others and love community and friendship. I got stressed thinking about going grocery shopping. Big red flag!!! The other thing that happened was even though I was living at a boarding school hardly anyone checked in after the first few weeks. I was isolated unless I made the effort to be otherwise and I was increasingly losing my ability to do that.

She was a good nighttime sleeper from the beginning thankfully but I started to have sleep issues quite early on. Every noise bothered me. I co-slept for a while, then moved her to a bassinet next to the bed and eventually out of the room into her own crib because I wasn't sleeping well. I kicked the dogs out and then moved out myself. A dear friend suggested I had Postpartum Depression but he was a man in his 60's so I blew him off. My husband is a great guy and great dad but he was super busy with work a lot of the time. 
There were other factors that first year. A month after I had Racey my sister, who lives in England, was diagnosed with breast cancer. Huge curve ball!! Then a really, really important person in my life died of cancer. Then we decided to move into the home we owned and had been renting which necessitated renovations that my husband took on on top of myriad other responsibilities so he was gone even more. Next, we moved and then my dear dog got really sick while my husband was indisposed on a camping trip. He needed to go to ER and ultimately did survive. This was all in one year. I would get a little better and then another thing would slam me and set me back.

During this year my gut started to head south. I also experienced a couple panic attacks. And, I still wasn't sleeping well at all. 
At a year I dissolved. I was in VT with my family on our annual vacation. I went to a Western Doc at that point and was put on an antidepressant. It was not the right fit for me. I felt worse. I got back to Maine and saw a practitioner here. She put me on three meds and gave me some labels. They helped but through that process I became habituated to sleep meds because they weren't managed properly by my provider. I should have been on a short course and weaned off but I didn't know that. She was supposed to help me do that and she didn't. 
Thus began my slow journey to recovery. Being able to sleep was a massive piece of righting the ship. I also continued my work on adrenal health and gut health to the best of my ability.
When Racey was 2.5 I felt well enough to attend a yoga training in NC for 8 days. A few years later, wanting to deepen my own healing and help others, I attended the Institute for Integrative Nutrition. I started my practice in 2010. A few years ago I became certified in Functional Diagnostic Nutrition to deepen my ability to get to underlying causes via lab work and a thorough protocol. I've since become a Master Life Coach to broaden my ability to help my clients with the mental and emotional aspects of their healing.


Healing one's body is a spiritual journey I've come to see. It has taken my into all the trainings I've done. It has called me to be a better parent, wife, friend and person. It has helped me let go of the how and live with the unknown, knowing there is no final destination besides our death. These are hard lessons that I live out better some days than others. Part of the mind work that I help my clients with is laying down new neural pathways in the brain that allow for healthier patterns and habits to be created in their lives. The old ones are always there but we can shift so that they don't predominate. This deep work can not be done in isolation without support. Support is imperative. The work I've been doing with my own coach for almost a year has been some of the most transformational of my life, and I've done a lot of transformational programs!! I welcome the opportunity to discuss whether this partnership would be the right choice for you. Please email me at melinda@melindabaxter.com or call me at 207-720-0887 to set up your free, half-hour phone session.

No one diet works for everyone

I will guide you to find the food and lifestyle choices that best support you. I will also help you to make gradual, lifelong changes that enable you to reach your current and future health goals.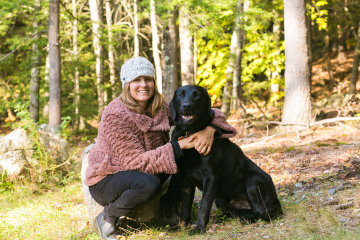 Could one conversation change your life?

Schedule an initial consultation with me today to discuss your gut and mind health!